OUR Philosophy
Oyo cooking philosophy began with the phrase "muxalace" meaning "lets lace this pot up with a little bit of everything". Her credo embodies the diverse heritage of Guyanese cuisine with its eclectic mix of flavors emanating from the ancestral homelands of the Guyanese people. Curries and Lo-Mein from Eastern Asian, Jerk Chicken and Rundown Fish from the Caribbean, Pepper Pot from West Africa and South American Paella all find a home here at Oyo.
We invite you to indulge in the essence of South American flavor.
Founder & Executive Chef
Maurice Dissels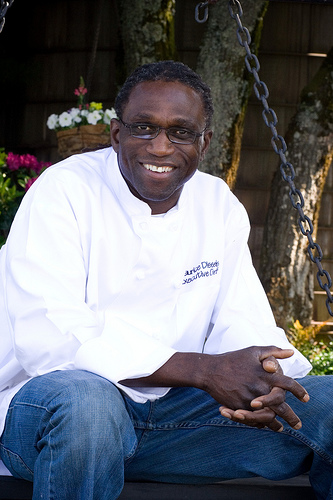 Oyo's founder Maurice Dissels' first childhood memory of his grandmother, in the hope of making him a good Cajun cook, is feeding him a taste of her spicy chili sauce. He remembers crying in his high chair. But he is smiling today as he works on the latest stage of his culinary development as the Executive Chef at Oyo. A South American-born native of British Guyana. He formally studied culinary arts with a strong background in Cajun/Caribbean cuisine and food science. He later moved to the United States, where he honed his crafts and skills at the culinary institute in Chicago Illinois, Grey Stone in St Helena Napa Valley and in restaurants from Chicago to Colorado and the Bay Area. Locally, he shared his passion for cooking in restaurants such as Pasta Cuisine in Orinda, the Historical Pleasanton Hotel, where he served as executive chef for 8 years, 840 North First, and Birk's where he was the Executive Chef for over 16 years. Working in such culturally and linguistically diverse kitchens gave Maurice not only the love for the restaurant business, that still burns brightly inside him today but also a deep appreciation for the different types of people that you might meet in any restaurant.
General Manager Samuel Dissels has more than 10 years in the front of the house experience as manager/server/bartender. He oversee's Oyo operations using his Business degree from SF state.
Sam is well known in the Pleasanton community having grown up here and worked the downtown food scene for the last 8 years.
Sam was born and raised a vegetarian but kept an open mind to all foods, and grew an appreciation for all kinds of cuisine. He explored many different culinary arts while backpacking through Europe and is currently training for Sommelier certification.
Patrick's love for cooking began at 15 with flipping dough at his first job. Ever since that moment he felt called to the culinary arts.
Patrick has trained under Chefs such as Tony Murray, Christopher Arroyo, and Top Chef Contestant Tu David Phu. Patrick continued his culinary development at Wente Restaurant, then as Pastry Chef and Sous Chef at Barone's, and later he became the Executive Chef for Double Barrel Wine Bar.
Patrick has conducted cooking demonstrations for local venues, and most recently Patrick was the executive chef's position at Bottlecaps tap room and kitchen.
Assistant General Manager
Nicole has a mission for service and this goal has brought her with us on the Oyo restaurant journey.
While her training is primarily in the field of humanities, her aim has always been to host and provide for others, and what better way than helping provide food for our community!
Nicole joined our team in early May and has operated as our assistant manager and all around organizer guru.